Physio Pool Big Part of Recovery for Otago Phoenix Club Members
Colin Reynolds was 71 when he had treatment in Dunedin Hospital for a pulmonary embolism. Then six months later had a triple bypass operation to save his life.
He is a member of the Otago Phoenix Club, a group of former heart patients who meet twice a week for gym, sport and swimming exercise at the Otago Therapeutic Pool. The pool has played an integral part in the preventative cardiology approach that gets cardiology patients up and moving.
Colin is now 80 and says the Physio Pool is the key to his longevity and has added a decade of bonus time to his life. "The pool's marvellous. It really does help. You can exercise without hurting yourself. I hope the pool is still around in another 10 years, because I'll still be using it."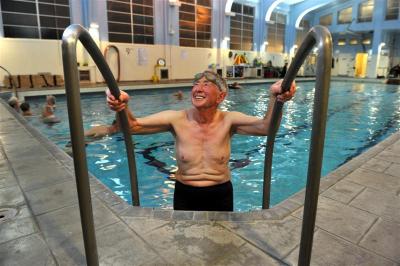 Colin Reynolds finishes another session at the Otago Therapeutic Pool, which he credits with adding a decade to his life. Photo by Gregor Richardson.
Read the full ODT article here