Fundraising Brings Swimmers Together
The effort to save the Physio Pool has brought swimmers together, fundraising volunteer Ingrid O'Connell says. Many had become involved in events to raise the $1.5million needed to save the pool, and had got to know one another. Swimmers have been selling raffles at The Warehouse South Dunedin and tickets are available for a Fun Casino Night on the 8th of August at St Kilda Bowling Club.
One swimmer giving time to help is Jo Nolan, who had major back surgery in January. Mrs Nolan's physiotherapist suggested she use the pool and it has played a major role in her recovery. "Please remember we are not a major organisation; we are just normal people who have either ailments or surgeries who need this pool to help us recover," Mrs Nolan said.
The Otago Therapeutic Pool fundraising campaign has now reached more than $767,000, with a $50,000 donation from the Dunedin Casinos Charitable Trust.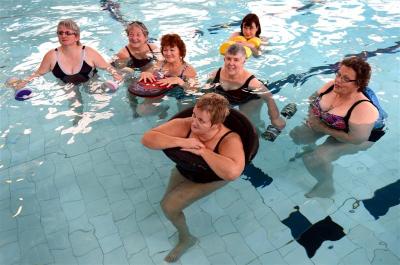 In the physio pool (from left) are Jo Nolan, Sue Duncan, Ivy Cockburn, Ingrid O'Connell (front), Jill Chalmers, Jeanne Ross (back) and Nola Lawrence. Photo by Peter McIntosh.
Full ODT article available to read here.