Lifeguards Watch Over Swimmers
Ashlie Nobilo's passion for being a lifeguard is such that when surf life-saving shuts down during the winter, she continues to watch over people in the water at the Physio Pool. One upside of working at the Physio Pool was that it was significantly warmer than working on Dunedin's beaches, she said.
She is one of about 10 lifeguards who work in shifts at the Physio Pool. "Our presence at the pool is more a precautionary thing. And there's quite a different demographic of people here to be particularly cautious of, with quite significant injuries or elderly. And I really like working at this facility, because I originally studied occupational therapy, so it's really cool to see the benefits that clients can gain after injury or illness – they can come here and make massive improvements."
More than $792,000 has now been raised since the fundraising campaign by the Otago Theraputic Pool Trust started in April.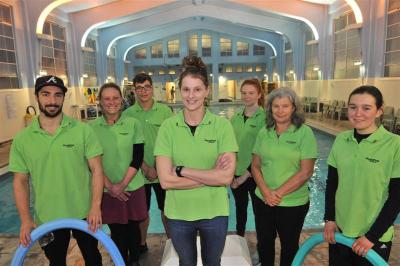 Lifeguard Ashlie Nobilo (centre) and fellow lifeguards (from left) Kieran Applegarth, Tara Bisset, Jakub Kajetanowicz, Lydia Ward, pool supervisor Gaye Davies and Emily Lawrence at the Otago Therapeutic Pool in Dunedin. Photo by Linda Robertson.
Read the full ODT article here